Why KidsCalculate?
Why is the KidsCalculate system the best in the world calculation visualisation system?
The illustrated examples may be able to give you a quick impression.
Shortly summarized, it is because it results in the best mental image for mental calculations. For that end, it unites the advantages of traditional visually supported calculation systems: The Montessori Stacking Sytem, the Bead String and the Abacus.
Types of visualisation
The figure below shows an example for each of these systems, in this case for the number 36.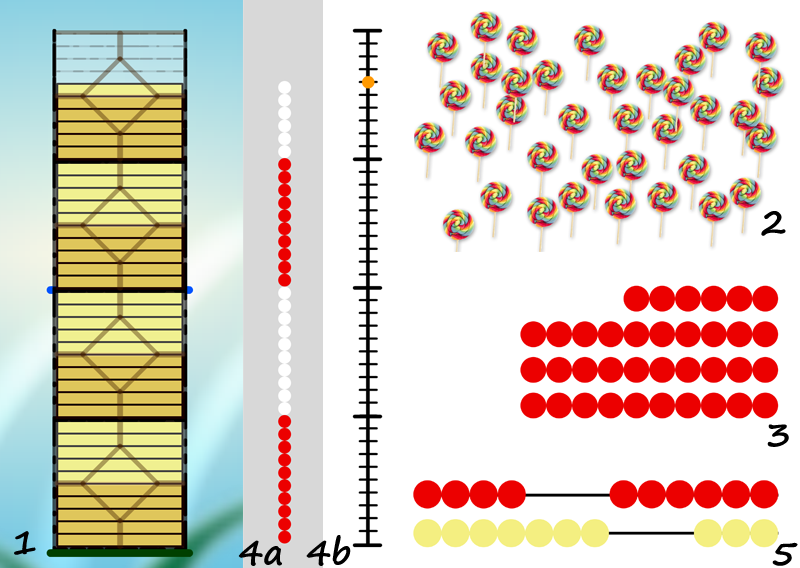 Comparison
The table below shows a comparison of the KidsCalculate System with these other visually supporting calculation systems. The number line and the bead string behave in an almost equivalent way. Therefore, in the comparison they are being treated together.
| Properties | KidsCalculate System | Unordened objects | Montessori Stacking System | Beads String cq Number Line | Abacus |
| --- | --- | --- | --- | --- | --- |
| Refnr in Fig | 1 | 2 | 3 | 4 | 5 |
| Quick visualisation of quantities | ++ | - | + | + | ++ |
| Linear Visualisation | ++ | - | - | ++ | - |
| WYSIWYG | ++ | ++ | ++ | ++ | - |
| Tens and units treated separately | ++ | - | + | - | ++ |
| Clear visualisation of ten overflow | ++ | - | - | + | - |
| Clear breaking up of a ten | ++ | - | ++ | - | ++ |
| Clear split up when breaking up a ten | ++ | - | - | ++ | - |